Thin film surface mount resistors




High-precision resistors for automotive and industrial application.


Metal thin film chip resistors (the highest precision) RG series AEC-Q200 Compliant
Lead free

Halogen free

RoHS Compliance

High Reliability

High Precision

AEC-Q200 Compliant

High-temperature operation

High power

High voltage

Anti-surge

Non-magnetic

High-Resolution Audio

Anti-sulfur

trimmable

leads
※Please contact us for more information or if you cannot find what you are looking for such as equivalent products for old part number

RG - Contents
RG - Features & Applications
Features
Long term stability with inorganic passivation
Less than ±0.1% drift after 10000 hours of reliability test
High precision resistance tolerance: ±0.05%, very small TCR: ±5ppm/℃
Thin film structure enabling low noise and anti-sulfur
Applications
Automotive electronics
Industrial measurement instrumentation, industrial machines
Various sensors, medical electronics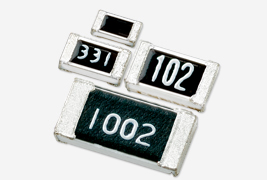 RG - Specifications
◆Part numbering system

◆Electrical Specification
Type
Power ratings
Temperature
coefficient
of resistance
Resistance range(Ω) Resistance tolerance
Maximum
voltage
Resistance
value series
Operating
temperature
Low
Regular
High
(ppm/℃)
±0.05%(W)
±0.1%(B)
±0.5%(D)
RG0603
1/20W
1/16W
ー
±10(N)
ー
100≦R≦22k
30V
E-24,E-96
-55℃~155℃
T10
±25(P)
±50(Q)
ー
47≦R≦56k
±100(R)
10≦R≦47
RG1005
1/32W
1/16W
1/8W
±5(V)
100≦R<3k
75V
±10(N)
47≦R≦100k
±25(P)
47≦R≦150k
±100(R)
ー
ー
10≦R<47
RG1608
1/16W
1/10W
1/6W
±5(V)
100≦R<5.1k
100V
±10(N)
47≦R≦274k
±25(P)
47≦R≦274k
47≦R≦1M
±50(Q)
ー
ー
10≦R<47
RG2012
1/10W
1/8W
1/4W
±5(V)
100≦R<10.2k
150V
±10(N)
47≦R≦475k
±25(P)
47≦R≦475k
47≦R≦2.7M
±50(Q)
ー
ー
10≦R<47
RG3216
1/8W
1/4W
ー
±5(V)
100≦R≦33.2k
200V
±10(N)
47≦R≦1M
±25(P)
47≦R≦5.1M
±50(Q)
ー
ー
10≦R<47
◆Dimensions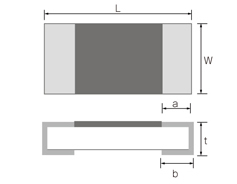 Type
Size
(inch)
L
W
a
b
t
RG0603
0201
0.60±0.05
0.30±0.05
0.13±0.05
0.15±0.05
0.23±0.03
RG1005
0402
1.0±0.05
0.50±0.05
0.20±0.10
0.25±0.05
0.35±0.05
RG1608
0603
1.60±0.20
0.80±0.20
0.30±0.20
0.30±0.20
0.40±0.10
RG2012
0805
2.00±0.20
1.25±0.20
0.40±0.20
0.40±0.20
0.40±0.10
RG3216
1206
3.20±0.20
1.60±0.20
0.50±0.25
0.50±0.20
0.40±0.10
(unit:mm)
◆Reliability specification
Low
Regular
High
Typical
Test Items
Condition (test methods)
≦47Ω
≧47Ω
≦47Ω
≧47Ω
≦47Ω
≧47Ω
Low
Short time overload
2.5 x rated voltage*1, 5 seconds
±(0.05%+0.01Ω)
±(0.05%+0.01Ω)
±(0.05%+0.01Ω)
±(0.05%+0.01Ω)
ー
±(0.05%+0.01Ω)
±(0.01%)
Life (biased)
70℃, rated voltage*1, 90min on 30min off, 1000hours
±(0.25%+0.01Ω)
±(0.1%+0.01Ω)
±(0.5%+0.05Ω)
±(0.25%+0.05Ω)
ー
±(0.5%+0.01Ω)
±(0.01%)
High temperature
high humidity
85℃, 85%RH, 1/10 of rated power,

90min on 30min off, 1000hours
±(0.25%+0.05Ω)
±(0.1%+0.01Ω)
±(0.5%+0.05Ω)
±(0.25%+0.05Ω)
ー
±(0.5%+0.01Ω)
±(0.05%)
Temperature shock
-55℃(30min) ~ 125℃(30min) 1000cycles
±(0.25%+0.05Ω)
±(0.10%+0.01Ω)
±(0.25%+0.05Ω)
±(0.1%+0.01Ω)
ー
±(0.1%+0.01Ω)
±(0.01%)
High temperature
exposure
155℃, no bias, 1000hours
±(0.25%+0.05Ω)
±(0.1%+0.01Ω)
±(0.25%+0.05Ω)
±(0.1%+0.01Ω)
ー
±(0.1%+0.01Ω)
±(0.01%)
Resistance to
soldering heat
260±5℃, 10 seconds (reflow)
±(0.05%+0.01Ω)
±(0.05%+0.01Ω)
±(0.05%+0.01Ω)
±(0.05%+0.01Ω)
ー
±(0.05%+0.01Ω)
±(0.01%)
*1 Rated voltage is given by E=√R x P  E= rated voltage (V), R=nominal resistance value(Ω), P=rated power(W)
  If rated voltage exceeds maximum voltage/element,maximum voltage/element is the rated voltage.
◆10000 hour reliability test data
○Biased life test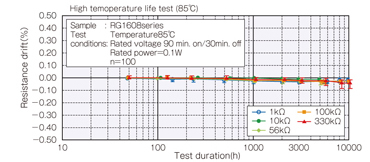 ○High temperature high humidity (biased)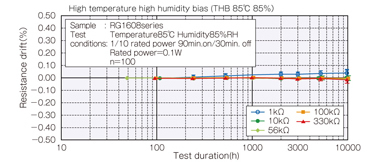 ○Temperature shock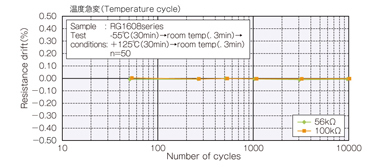 ○High temperature exposure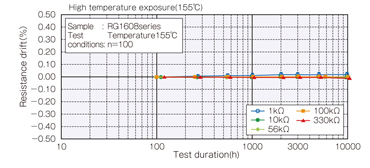 ◆Derating Curve

◆Maximum pulse power limit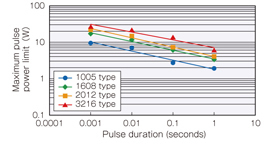 Test procedure
Voltage pulse is applied to the test samples mounted
on the test board.
After each pulse, resistance drift is measured. Pulse
voltage is increased until the drift exceeds +/-0.5%.
The power at that voltage is defined as the
maximum pulse power.
Please feel free to contact us about products,
requesting documents and samples.
Thin film surface mount resistors

Current sensing surface mount resistors

Power choke coils

High freguency surface mount components

Sample kits
Susumu Deutschland GmbH