5.Trimmable chip resistors and altering resistive values
5.Trimmable chip resistors and altering resistive values
5.1 The structure of trimmable chip resistors and how they work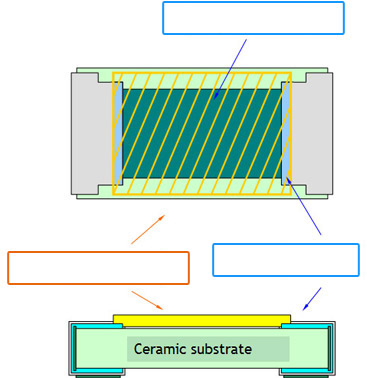 Thin film resistor
Glass film(CVDed)
Terminal film

YAG laser
Glass film
Substrate
Thin film resistor
YAG laser applies energy to the thin film resistive element without damaging the glass film

Oxidized film
(translucent)
With the energy, the metal film acquires oxygen from the glass and change itself to metal oxide. Metal resistive film becomes insulator and trimming is done.
5.2 Adjusting resistor in trimmable chip resistors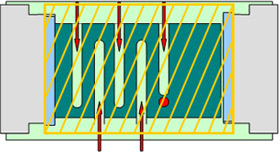 Trimming (conceptual drawing)
This is one example. Actual resistance change depends on products and trimming machines.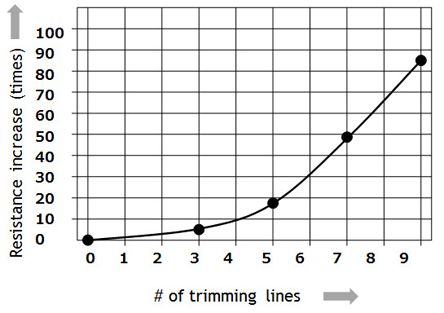 Trimmable chip resistors features:
1.One trimmable chip can be trimmed into wide range of resistive values
2.Glass protective layer stays intact and continues protecting resistors after trimming
3.Metal to metal oxide change by trimming makes it possible to adjust precisely.
4.The characteristics of metal thin film resistors remain after trimming.
Standard Specification for surface mount chip resistors

Standard Specification for High frequency surface mount components

High Precision Thin Film Chip Resistors

Current sensing chip resistors
Please feel free to contact us about products,
requesting documents and samples.
Susumu International U.S.A. -Specialist in Thin Film Technology-