High frequency surface mount components




Chip attenuators with high frequency operation (up to 30GHz)


High Frequency Chip Attenuator ATS series
Lead free

Halogen free

RoHS Compliance
※Please contact us for more information or if you cannot find what you are looking for such as equivalent products for old part number

ATS series - Contents
※Since the land pattern differs for each series, it is described in the PDF catalogue for each series

ATS series - Features & Applications
Features
Attenuation range up to 30GHz
Internal circuit specially designed for 0-10dB attenuation.
Miniature surface mount chip attenuator (2012 size)
Signal line sandwiched by ground – excellent heat dissipation and low noise.
Applications
Wireless communication devices and base stations
Wireless communication modules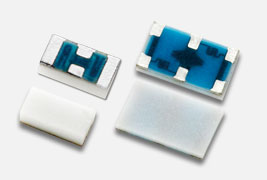 ATS series - Specifications
◆Part numbering system

◆Electrical Specification
Type
ATS2012
Attenuation
0dB
1~2dB(1dB step)
3~7dB(1dB step)
8~10dB(1dB step)
Circuit Type
Thru
Tee
Pi (π)
Dual pi (Dual π)
Equivalent circuits
①
②
③
④
Attenuation tolerance
±0.5dB (0~20GHz)、±0.75dB(20~30GHz)
VSWR
≦1.5(0~20GHz)、≦1.7(20GHz~30GHz)
Impedance
50Ω
Operating frequency
DC~30GHz
Rated power
100mW
Rated operating
temperature
70℃
Operating temperature
-55℃~+125℃
Packaging quantity
500pcs/reel(T05)
1,000pcs/reel(T1)
*:Same specification may be updated because this product is still under development. Please contact our Sales for the latest specification and the information related to this product.
◆Equivalent Circuit and pin arrangement

Please feel free to contact us about products,
requesting documents and samples.
Thin film surface mount resistors

Resistors with radial leads

Current sensing surface mount resistors

Power choke coils

High freguency surface mount components

Sample kits
How to use chip resistors smartly
Standard Specification for surface mount chip resistors
Standard Specification for High frequency surface mount components
Susumu International U.S.A. -Specialist in Thin Film Technology-