High frequency surface mount components




Termo-variable chip attenuators for temperature drift compensation


Thermo-variable chip attenuators P*V series
Lead free

Halogen free

RoHS Compliance ※
※Except for  Chinese RoHS
※Please contact us for more information or if you cannot find what you are looking for such as equivalent products for old part number

P*V - Contents
※Since the land pattern differs for each series, it is described in the PDF catalogue for each series

P*V - Features & Applications
Features
Simple solution for compensation for the temperature drift of GaAs amplifier
Resistive construction allows operation in wide frequency range
Ten different attenuation x 8 or 9 temperature characteristics: over 80 different offerings to meet any amplifier characteristics.
Applications
Cell phone base station
Wireless remote controller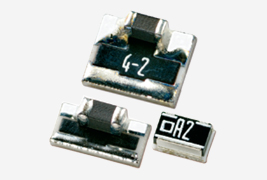 P*V - Specifications
◆Part numbering system

◆Electrical Specification
Type
PXV1220S
PBV1632S
PAV3137S
Attenuation
1~10dB(1dB Step)
1~10dB, 16dB (1dB Step)
1~10dB(1dB Step)
Attenuation tolerance
±0.5dB(@25℃, no load)
Impedance
50Ω
VSWR
1.3 以下
Termo Sensitive
characterristic
N1~N9(1db~3dB)
N1~N8(4db~10dB)
N1~N9(1db~3dB)
N1~N8(4db~16dB)
N1~N9(1db~3dB)
N1~N8(4db~10dB)
Operating frequency
DC~3GHz
DC~6GHz
Rated power
63mW
100mW
2W
Operating temperature
-40℃~+100℃
-40℃~+125℃
Packaging quantity
100pcs/bag(B)
200pcs/reel (T02)
1000pcs/reel (T1)
20pcs/bag(B) 1,000pcs/reel(T1)
◆Dimensions

Type
Size
(inch)
L
W
t
b
W2
W3
PXV1220S
0805
2.00±0.20
1.25±0.20
1.1max
0.65±0.20
0.38±0.20
0.25±0.35
PBV1632S
1206
3.20±0.20
1.60±0.20
1.5max
1.00±0.20
ー
0.40±0.35
PAV3137S
1512
3.70±0.20
3.10±0.20
1.5max
1.00±0.20
1.50±0.20
0.85±0.20
(unit:mm)
◆Equivalent Circuit and pin arrangement

※Detailed information other than the above is described in PDF.
Please feel free to contact us about products,
requesting documents and samples.
Thin film surface mount resistors

Current sensing surface mount resistors

Power choke coils

High freguency surface mount components

Sample kits
Susumu International U.S.A. -Specialist in Thin Film Technology-