Product Introduction Videos
Severe Environmental & SulferTolerant Resistors
Susumu USA
Brief Technical Presentation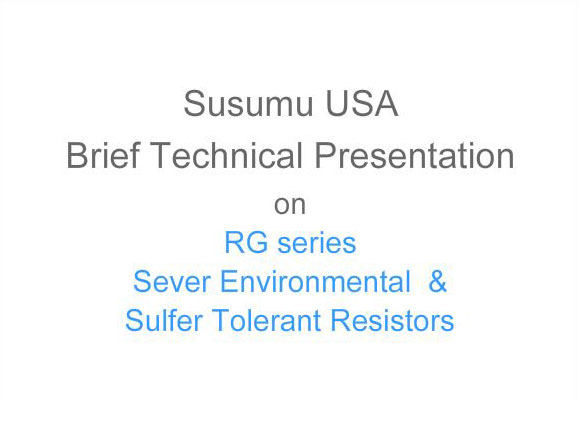 Welcome to the Brief Technical Presentation for SSM's RG series chip resistors.
This presentation focuses on the RG's outstanding tolerance to severe environmental conditions. This
presentation also describes the need for resistors that can withstand severe environments with special
focus on sulfur tolerance and addresses how SSM's RG series meets such needs. Finally, this
presentation also briefly explains why the RG series chip resistors are so reliable against any harsh
environment.
Unlike most electronics equipment, such as computers, that are used in a controlled environment, there
are applications such as automotive, mining, outside communication devices and industrial equipment that
are exposed to severe environments. Severe environments include high temperatures, high humidity,
vibration, industrial chemicals such as machine oil, and exposure to a sulfur-containing atmosphere. Sulfur
is a common component of automotive exhaust gas and is highly reactive with silver posing potential
damage to resistors. Such applications require resistors that are resistant to these harsh environments.
The Flower of Sulfur or FOS test is the standard industrial test that examines the porosity of the
passivation materials over metal using sulfur vapor and attempts to induce a reaction with silver and other
metals under passivation. Some automotive electronics companies require this test for component
qualification. The example provided above requires 20 days of exposure to sulfur vapor without the
formation of silver sulfide.
Sulfur vapor is known to penetrate through silicone and other organic passivation. SSM's RG series uses
inorganic passivation which is almost equivalent to a hermetic seal. Sulfur is also known to react with silver
and sometimes with copper to create metal sulfides that cause resistors to drift or to become open in
extreme cases. Sususmu's RG series does not contain any silver or copper; hence there is no reaction
with sulfur.
To demonstrate Sususmu's RG's tolerance to sulfur vapor, we contracted with Battelle lab, a third party
lab, to conduct the Flower of Sulfur Test exactly as previously described by one auto electronics-maker. A
direct quote from their report shown above confirmed that there was no sign of silver sulfide after 20 days
of the Flower of Sulfur test. The silver coupon, intentionally placed to prove the test's validity, was covered
with silver sulfide.
We also conducted our own test exposing the RG series resistors to SO2 gas. If any of the metal in the
resistive material or terminal reacted with sulfur, significant resistant drift should have occurred. As shown
above, the average drift was less than 0.01%, which is negligible.
Another test conducted by Susumu involved H2S gas. In this test, the samples were exposed to H2S gas
until the silver indicator on the test board formed a 1μm thick silver sulfide plume. The drift on the RG
series resistors was again minimal.
The RG series is also tolerant of high temperatures, vibration and industrial chemicals such as machine
cutting oil.
This is sample data showing how the RG series is tolerant to high temperatures. Under conditions of 155
degrees centigrade, the RG series did not show any drift after 3000 hours. The RG series resistors have
an operating temperature of up to 155 degrees centigrade.
The RG series did not show any drift after 100 hours of a tolerance test which exposed the products
simultaneously to a high temperature with high humidity and exposure to synthetic machine cut oil. This
demonstrates an equivalent tolerance to thick film products.
The Mil Standard vibration test also demonstrates virtually no drift and no visible damage to the RG series
resistors.
Our accelerated reliability test that was equivalent to 83 billion component test hours resulted in no
failures. The statistically estimated fit rate is 0.011, which is 11 parts per trillion. Virtually no failure is
possible.
The key to the RG series' extraordinary environmental tolerance and reliability is its inorganic passivation
which is applied using a CVD process over our resistive film.
After the inorganic passivation is applied, laser trimming is executed through the translucent passivation
film under sealed conditions. Normally, laser trimming creates a significant amount of dust and becomes a
source of contamination. However, Susumu's RG trimming process does not produce any dust and the
resistive film is protected throughout the trimming process.
Because of their inorganic passivation and protected laser trimming process, Susumu's RG thin film chip
resistors offer unprecedented tolerance to severe environments and boast unmatched reliability including
sulfur resistance. If you are searching for a chip resistor that can tolerate any severe environment, your
search is over. Susumu's RG is the answer. Thank you for your interest in Susumu's chip resistor
products.

1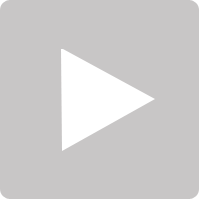 Susumu International U.S.A. -Specialist in Thin Film Technology-